Happy Friday Lovies!
Boy am I glad to see Friday! This has been one heck of a long week. Plus we are celebrating with a little sprinkle for one my besties on Saturday. I'm co-hosting and hope to have some cute pictures to share! My Hubs and I also have dinner plans with two couples we've been trying to see for a few weeks now. Can't wait to share our news with them! Now on to my 5 on Friday..
+ I decided to go with the
diamond quilted Kate Spade baby bag
. Unless I find something else that I can't live without. The sales clerk said as long as I kept my receipt and didn't take the tags off I could return later if I changed my mind. I went this bag because of the outside and inside pockets. It's also very deep and I think I can use the space with two little ones.
+ I ordered baby books for these little monkeys this week. My Hubs laughed when I was squealing with excitement to order these. I went with
Emily Ley's baby book
. She just release this on Wednesday. She has twins conceived through IVF after 3 years of infertility. I love how I will be able to customize this book for my little ones. I seriously teared up a bit just thinking about it!
+ My Hubs' grandmother sews and has made several quilts for the family. I asked her if she would be willing to make two twin sized quilts for the babies. She called me this week and said she would! I seriously cried! Damn those pregnancy hormones! I'm going to wait to pick out fabrics until we know the sexes but I can't wait to customize these fabrics. My Mom also sews and offered to make crib skirts and rail bumpers to coordinate. I'm over the moon about this! These babies will have these things forever!
+ My niece is a dancing rat in a local musical of Shrek. My Hubs and I attended this on Wednesday night. It was a cute play but boy was it LONG! I don't think the babies liked me sitting in one place for so long. And geez was Thursday morning bright and early!
+ I'm on the hunt for super cute but affordable maternity dresses. If anyone has any, please send them my way! I ordered
this dress from Target
. I usually order a medium and this time a medium was HUGE! Sadly the smalls and extra smalls are sold out. I had already returned the medium to the store but from lack of finding cute items, decided to purchase it again and get it tailored.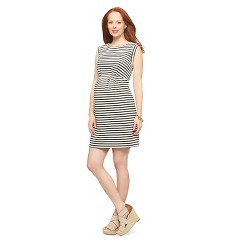 Have a good weekend Lovies!