Happy Monday Lovies!
It's raining here and it was all I could do to drag myself out of bed this morning. Today would be a good day to stay cuddled up on the couch in pj's!
We had a super busy and fun weekend and almost ZERO pictures! We were too busy living life to stop and take pictures. Which kinda makes me sad a bit.
Friday we celebrated an engagement of one my friends. I'm so happy for her! This bride is on the ball- their date is October 10th of this year. I can't wait to celebrate their big day. It was also good to see so many of our friends and catch up a bit.
Saturday was laundry and the regular attempt at cleaning. I stopped and indulged in a little snack. I've been addicted to The Fresh Market's dark chocolate ice cream lately. Calories shouldn't count since I added berries as a topping, right?
Saturday night we attended a cookout at a family friend's house. They cooked pheasant, duck, and quail. I tried them all to be open minded. The pheasant wasn't bad. I didn't care for the rest. Thank goodness my step MIL made chicken casserole as well. I really hate I didn't take pictures of the all food (it was a lot!) and of our good little group.
Sunday morning was early service at church and then breakfast at the NC Farmer's Market. Their biscuits are hard to beat! I enjoyed mine with grape jelly. My Hubs prefers molasses.
I had a lazy afternoon until heading over to our neighbors for a little Superbowl gathering. I had planned on taking pictures and again starting chatting and eating and totally forgot! I did (at the end of the night mind you) take a picture of the food. Half eaten and well this isn't even half of it. There were pulled chicken sandwiches and baked beans not pictured. You can barely see the chicken wings. We've already devoured the mozzarella sticks and pigs in a blanket. The half time show was really good, much better than previous years. I usually watch commercials but I was too busy chatting this year, ha! The game was a good one. I was kinda sad the Seahawks didn't win but it will be ok. I'm only a Seahawk fan because of Russell Wilson (he played for NC State). Anywho.. good game guys!
This is actually a picture I should have included for last weekend's recap. I couldn't get my computer to cooperate so I thought I would share it today. These are the items I scored at the Bullock's warehouse sale last Saturday. Now if I could just find a little entry way table I could finish finding a home for all of these.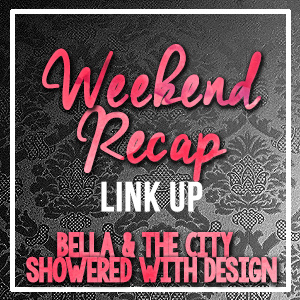 I hope everyone has a wonderful Monday!