Happy Friday Lovies! I don't know about you but this has felt like the longest week of my life! So ready for the weekend. Here are my 5 day..
1- Work has been an up and down battle for the past few years. It's a constant stress of how long will they keep me or what will they do with us once our portfolio is gone (which is coming sooner than I had hoped). I'm faced with if I should look for another job or stay here until they kick me out the door or move me around. This is an ongoing thought and battle I've been facing for the past year. I have a wonderful boss. He is downright amazing! I could not ask for anyone better. When I think of settling for something else I'm reminded of this quote..

So I'm thinking I will stay unless that dream job comes around.
2- I made Christina's Flat Breads for dinner on Monday. I feel like I get stuck in a cooking rut. I make the same things over and over again because they are quick and easy. OMG these were amazing! I did tweak the recipe a bit. I used feta cheese instead of goat just because I already had it on hand. I also added some bacon crumbles since I had a few strips left over from breakfast on Sunday. These were quick and easy and delicious. These will be made again soon!
3-
Rusk Deep Shine Invisible Dry Shampoo
- I bought this the other day. I've never used dry shampoo before but I'm trying to stop washing my hair every day. It's a hard habit to break so I thought this might help me along. This stuff smells awful!! I literally got a headache after using it. My hair had some sort of film over it. It was an odd feeling. I washed my hair that night and it took several washes to get the stuff out of my hair. Anyone else have this problem? What kind of dry shampoo do you use?
4- I was talking to my Mom on the phone yesterday. She told me that my Dad got some new thing (I didn't ask what) and all he got was a DVD with it. They tried 3 DVD players in the house to see the instructions. I seriously burst into laughter. I mean I laughed until I cried. I asked her if they had thought about putting it on the laptop? I'm putting sure it's a CD- ROM of an instruction manual. I love my parents but they are pretty clueless when it comes to technology. Anyone else's parents like this?
Side note- I had problems hooking up my blue tooth from my phone to my speaker in my car this morning. Do you think it's karma or that the apple doesn't fall all that far from the tree?
5- We have zero plans this weekend and I'm over the moon about that. We have so many projects/cleaning around the house I would like to knock out. I'm putting this as one of my 5 so hopefully I will hold myself accountable and get moving. Kickstart to spring cleaning!
Have a blessed weekend Lovies!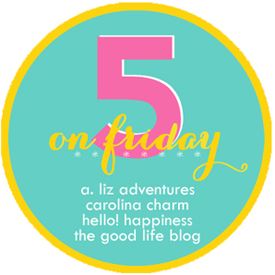 Linking up with
April
,
Christina
,
Natasha
, and
Darci
.
Linking up with
Amy
and
Karli
.